Whether you work in the events industry or not, you've probably come across Coachella. It's one of the most famous music festivals in the world, with brands lining up to tap into its captive audience of celebrities, festival-goers, and trendsetters. This year's event was no exception, with an array of immersive and creative brand activations integrated into the festival experience.
Each year Coachella generates over $100 million in ticket sales, and last month it was no different. The popular California music festival sold out its first weekend, instantly ushering in roughly 125,000 people from around the world. Brands recognise the opportunity that such a vast and diverse audience presents and increasingly use experiential marketing tactics to create engaging and memorable experiences that connect with festival-goers.
If you're like me, wishing you had made it to the desert this year, don't worry, as I've taken the time to look at everything that's been going off, especially regarding the elaborate brand activations. And let's say I'm pretty impressed! Here are the ones that stood out for me, and I'll be letting you know all the secrets that can apply to the UK festival scene.
American Express Activation
There's no surprise that I had to start off with American Express; every year, they put on an incredible experience for their customers. This year they organised an on-site activation featuring a Y2K-themed area, catering to Gen Z's fondness for "newstalgic" experiences. And, of course, they incorporated a photo opportunity with a vintage camera emporium and photo studio, where festivalgoers could rent or buy cameras from the eco-friendly company Paper Shoot. Not only that, but card members could print their photos on limited-edition Coachella tote bags. The brand also partnered as the official BLACKPINK merch tent, offering AmEx card members access to a fast lane and receiving a complimentary gift.
818 Desert Outpost
I love this public-facing, gas station-inspired pop-up offering free festival essentials. Let's just say I'd queue up all weekend just for one of these goodie bags; featuring various brands such as Kylie Cosmetics, Revolve, Tower 28, Emi Jay, Vacation, Lemme, Pressed and Path, 8 Others Reasons, and Liquid IV, which attracted over 2,000 consumers throughout the day. Additionally, the pop-up featured photo ops (no surprise there) with 818 Tequila's label and other desert-inspired elements.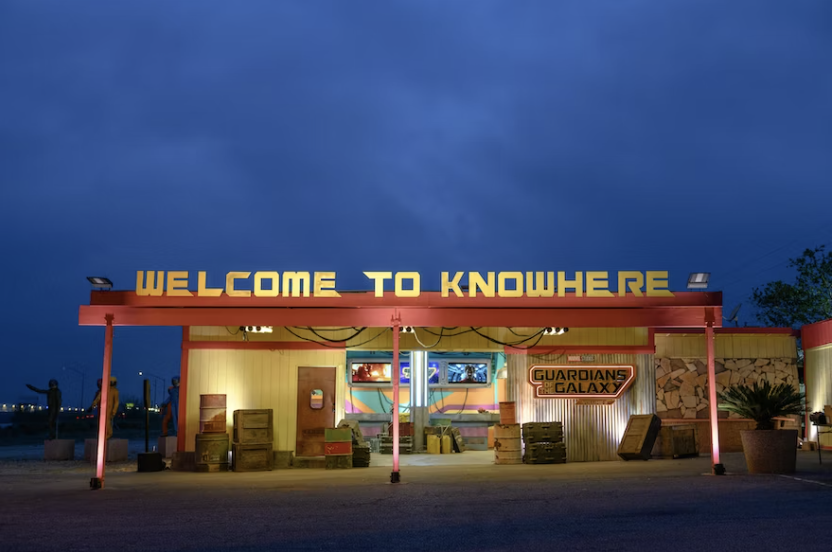 Guardians of the Galaxy Knowhere Activation
The Guardians of the Galaxy's KNOWHERE Activation was Marvel Studios' first-ever Coachella activation. Located on the side of the festival road, the immersive public space featured exciting photo opportunities, musical performances, and exclusive giveaways focused on the upcoming release of Guardians of the Galaxy Vol. 3 on May 5. Outside, guests were greeted by life-sized replicas of the movie's colorful spacesuits. Inside were in-world design elements, hidden Easter eggs, a vintage-style photo booth, along with free branded festival gear. What I thought was a nice touch was that those driving out to the desert could listen to K-GOTG Radio, a Guardians-themed station that included music from all three movies and commentary from comedian Greg Barris. Conceptualized and produced by creative agency IHEARTCOMIX, this activation considered its environment and honed in on the traveler's journey to the festival.
Photo: Francis Specker/AP Images
Neutrogena Activation
Neutrogena debuted as Coachella's official skin and suncare sponsor this year, installing sunscreen dispensers throughout the festival grounds and distributing over 1,700 fluid ounces of sunscreen during the first weekend. I like that they put the consumer first and offered them something that was essential, then educated them about their products. There was also an immersive on-site activation, emphasizing the science behind Neutrogena's formulations. Divided into three zones, the activation allowed festival-goers to experience their skin's defense mechanisms, cellular activity, and inner core vitality while showcasing Neutrogena's product suite. The placement of every detail and the brand message was carefully crafted to demonstrate how Neutrogena's products protect against the harsh desert environment of Coachella.
Love Beauty and Planet's Misting Tents
Love Beauty and Planet, a vegan haircare brand, provided guests at select luxury hotels with deluxe "misting tents" and eco-friendly festival essentials during the first weekend of Coachella. The experience, in line with LBP's mission of showing love to both people and the planet, aimed to help guests stay cool in the heat while highlighting the brand's natural ingredients. The outdoor tents allowed influencers and guests to cool off with refreshing mists infused with one of LBP's three core scents: rose, coconut, and mandarin. Each tent was adorned with faux flowers and colorful LBP branding, corresponding to its scent. They also set up beauty stations complete with mirrors and hair accessories. They went the extra mile by arranging for influencers staying at the hotels to have everything they needed for the weekend, organizing hotel-room deliveries of gift bags containing eco-friendly items such as LBP products, custom embroidered bathrobes, makeup kits, and reusable water bottles. There were also dedicated party buses filled with flowers to transport the guests to and from the Coachella festival.
But what can we learn from these activations which could apply to the UK festival scene? My top takeaways are brand partnerships, location-enhanced activations, and proof that photo ops are still on top.
For instance, American Express teamed with BLACKPINK, Adidas collaborated with Bad Bunny, and Revolve invited Hawkers to be the official eyewear partner (as a result, 10,000 pairs of sunglasses were handed out to festival attendees, securing a powerful brand presence across some of the most high-profile Instagram accounts).
Brands at Coachella also tapped into the Californian landscape, using desert-themed activations that enhance the overall festival experience. Locating brand activations on the main route and at popular sites around the festival ie hotels – where brands can attract and stand out from the on-site experiences. Now I'm not saying to create a sandy terrain in the heart of Glasto, more like linking activations to British culture and considering the festival-goer's journey.
Photo: Francis Specker/AP Images
And something that comes as no surprise to me, and all of us here at Noonah, is that photo moments are still a thing! With a lot of activations providing photo technology and equipment to encourage people to take photos, I've also seen a big focus on authentic experiences for creators to capture their own unique content. I know most UK festival activations do tap into this opportunity, but seeing how many brands at Coachella took this approach really emphasizes the importance of photo experiences. It creates an exceptional experience for those attending and improves the brand's online presence. In my opinion, photo opportunities are definitely underrated and should be considered more when creating the ultimate festival activation.
Overall, this year's Coachella brand activations were incredibly diverse and impressive. From powerful partnerships, desert-themed pop-ups, and tailored freebies, brands went above and beyond to create unique and engaging experiences for festival-goers. And I don't blame them; according to a report by EventTrack, 98% of consumers feel more inclined to purchase a product or service after interacting with brand activations. So, by creating experiences that resonate with their target audience, brands can forge deeper connections with their customers and drive business success.
It will be interesting to see which brands continue to push the boundaries of what is possible in experiential marketing at this year's UK festivals!