No one leaves an exhibition stand empty-handed; companies give away freebies in the hope they'll be remembered, but the truth is most of them aren't. While giveaways are always an effective way to attract visitors, regular freebies don't cut it anymore. Audiences have gotten wise to free merch, picking up their product and quickly leaving the stand with typically cheap and generic merch with little personal value. The result is low engagement and high waste, with most giveaways ending in the bin. The environmental impact of such an approach can be significant. You have to give away promotional gifts to compete with others but need something that will create a lasting impression; the question is, what should you give your visitors?
"52% of attendees are more likely to enter an exhibit if they're offering some kind of giveaway or freebie."
We all know that personalised items are the key to building an emotional connection with your customers. It's been proven by our work with Hasbro when we used our tech to Personalize their popular family classics: Monopoly and Cluedo. But live product printing isn't limited to the retail environment. We can create this experience designed specifically with your exhibition stand in mind. We've even used it on our own tradeshow stands, and it had everyone talking about it!
Intrigued? I thought you would be. So, how do you incorporate custom giveaways into your exhibition campaign? Is personalised merch suitable for your next show?
Keep reading to see how you can add a personal touch to your stand.
Make your visitors feel valued
While the main reason for exhibiting at a tradeshow is to gain leads, sales tactics shouldn't be the sole focus of your activities. It would help if you focused primarily on the experience you're providing to visitors. Making your visitors feel comfortable, engaged, and valued, rather than a simple profit they could provide. This could be the difference between a long-term relationship or loyal customers than a quick win. Our Personalize technology allows the experience to be just that, by creating an emotional connection between your brand and your audience. Without sounding too technical, there are also several psychological benefits linked with personalised items. The first is the "reciprocity effect," where studies have shown that when someone receives a gift, they feel inclined to return the favour. Secondary, an item someone has curated can take advantage of the endowment effect. This psychological bias leads someone to value things more simply because they created (and now own) them. Taking advantage of these theories and offering a product or merchandise that means more to an individual is more powerful than simply handing out freebies.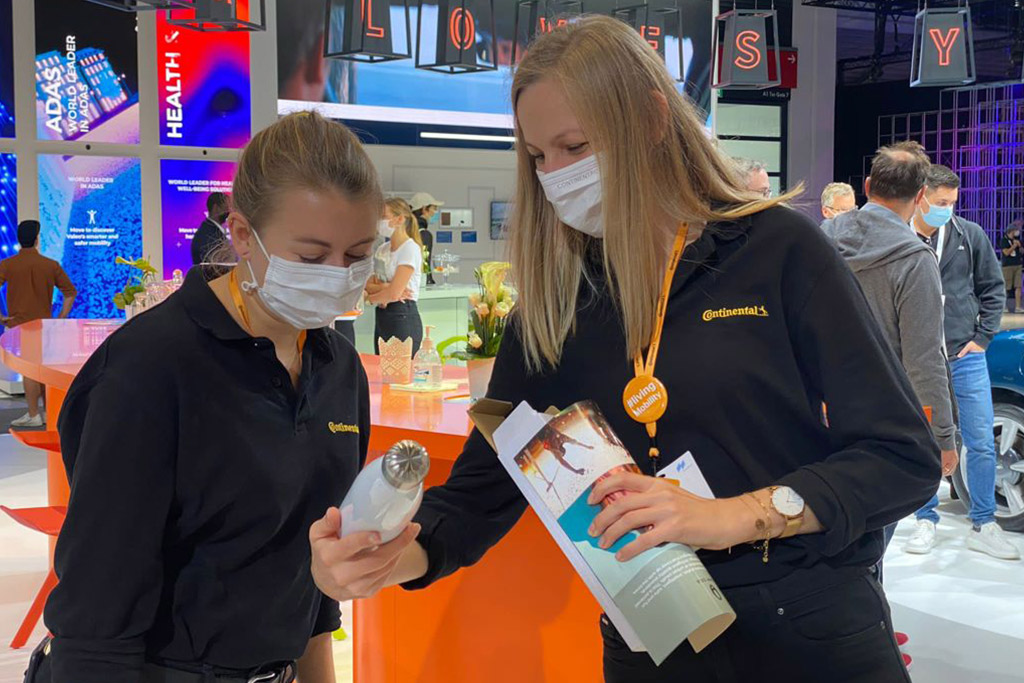 Visitors admiring their personalised water bottles.
Just take a second to imagine; everyone is walking around the tradeshow with your branded merchandise. How great would that be; your brand and logo could be on everyone's shoulder in the form of a tote bag. Personalised merch improves brand recognition and visibility as these unique products are carried from place to place, like traveling billboards. The products spark conversations, improve customer retention, and generate wide-reaching word-of-mouth advertising you can't get any other way. These items can also help evolve your customers into brand ambassadors. When using everyday items (e.g., water bottles, travel mugs, bags, shirts), your brand becomes central to your customers' lives.
"Trade show attendees will tell more than 6 people about their experience at the event."
Doing the same thing as everyone else will not allow you to stand out; it will only hinder your strategies by wasting money on invaluable junk that will otherwise be thrown away. Being different and offering your visitors something that cannot be experienced elsewhere is vital, in this case, the chance to design their own merchandise. Visitors can interact with eye-catching tech on your stand and watch their vision come to life right before their eyes. We can create and build our tech to stand out in the form of branded custom kiosks and printing stations guaranteed to draw visitors.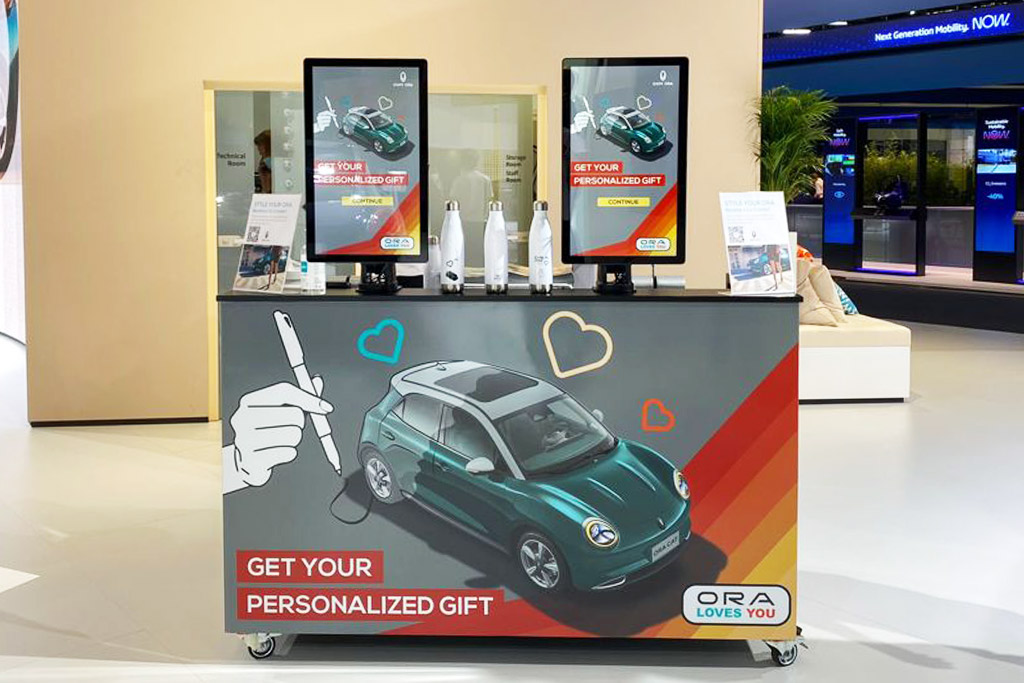 At the heart of every loyal relationship is an emotional connection. For consumers to emotionally connect with your brand and develop that level of loyalty, you need to offer something personal to them. You can achieve this with personalised merch as you're offering more touchpoints and something beyond a standard freebie. Custom merchandise can help expand your consumer's interactions with your business by bringing an element of memorability to your brand. These curated items give your customers a taste of the unique brand you've created and give them a chance to be a part of it with their custom merchandise.
Let your audience express themselves
Using Personalize to customise products on your next exhibition can allow your visitors to express themselves in a creative and unique way, something otherwise hard to achieve in a world full of mass-produced products and boring trade shows.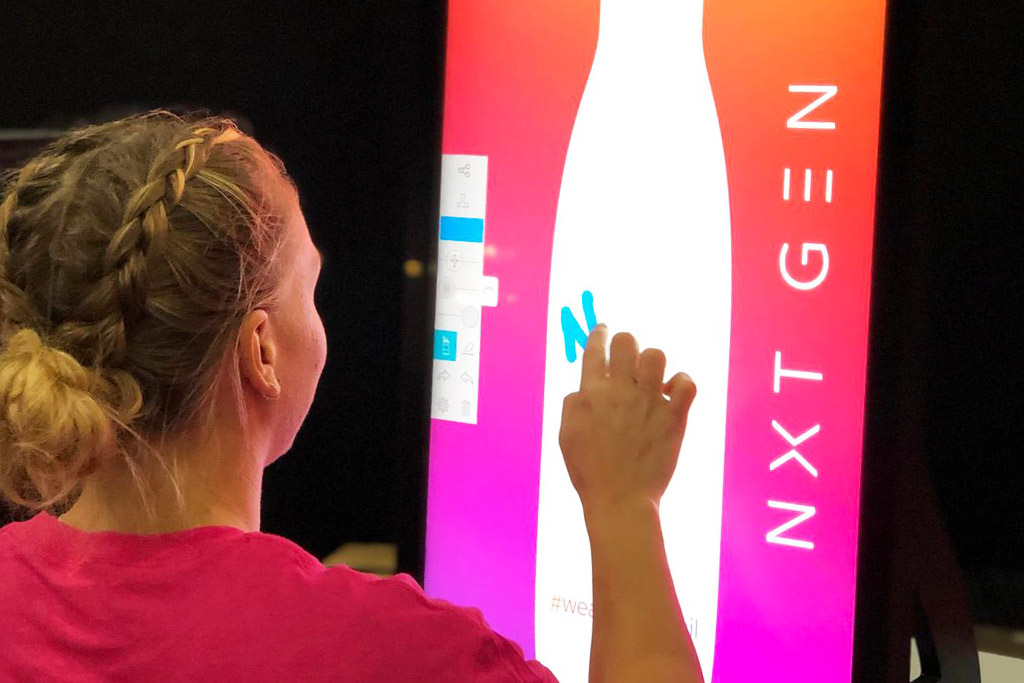 Attendee using the touchscreen to design their personalised merchandise.
Giving your audience an activity that keeps them engaging and interacting with your brand will keep them on your exhibition stand for longer, especially if it's fun. Our Personalize tech offers just that. Visitors can interact with touch screens or pair with Digital Graffiti to allow them to enjoy creating a unique design to go on your branded merchandise.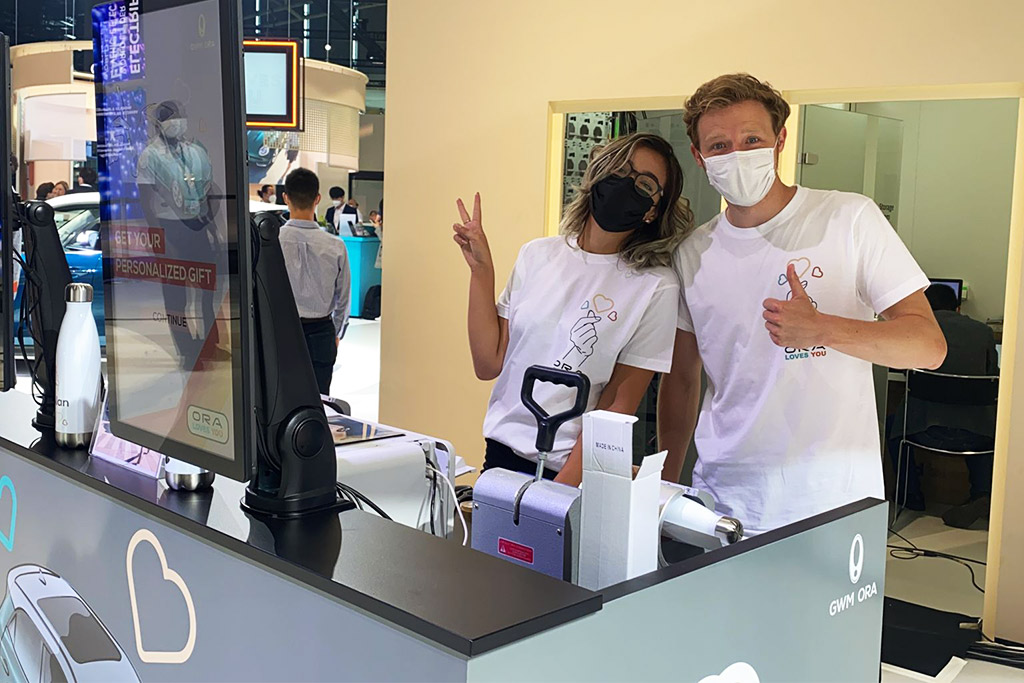 Staff using the Personalize technology at an expo.
When companies hand out low-quality items that have no meaning to the audience whatsoever, then items will most likely be wasted. Not only is this bad for the environment but it could also be a huge waste of money. If you've built a loyal following they will want to have branded merchandise but for those that have never interacted with you, I suggest allowing them to create their own design which will resonate with them a lot more.
"30% of attendees will wear or use the swag item they recieved at a trade show."
You heard that right, our Personalize technology can have a number of data fields in which people can fill in order to experience this technology, and allow them to pick up some personalised merchandise. This is a really handy tool to gain email addresses, names, companies name, and can be completely customisable.
Personalize allows your customers to use their phone or a touchscreen to create their own design, then they can watch as our state-of-the-art printers transfer it to almost any product in real-time. Your customer has a fun and engaging experience and receives a personalised product from their new favourite brand.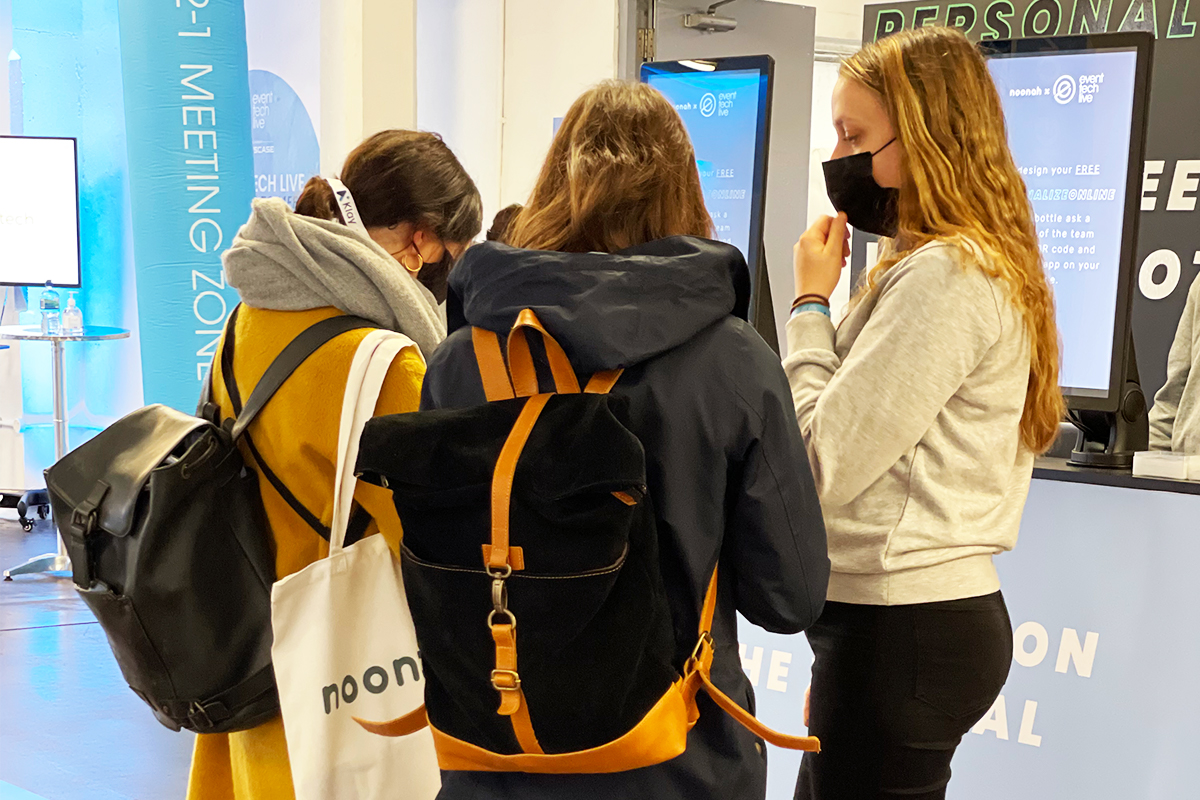 Visitor walking around with their branded merch.
As well as our Personalize tech printing in real-time, we can ship their custom-designed merchandise after the exhibition; this is an excellent way for post-marketing opportunities.
The item serves as a reminder. The moment the gift is given plays a big part in creating a positive experience. Still, it makes a bigger impact in the days and weeks following the exhibition. Prospects holding on to their personalised merch will use it often and be reminded of your company, calling when they are ready to get down to business. If your logo is an image, consider including your website or phone number on the item, so that your audience can easily find you. So, to answer the question 'is personalised merch right for your next expo?' Get in touch and let me know!