We scooped up two prestigious awards at The Event Technology Awards 2022, winning 'Best Use of Technology for Engagement and Interaction' and 'Best Technology Partnership'. We're over the moon to pick up two awards at the 10th anniversary of awards for our work with Hasbro. The awards ceremony took place after day one of Event Tech Live, and we had a fantastic time at both events; we met familiar faces and new ones, we got to celebrate awards with a some of the most significant event tech companies, and as always, we loved the energy of the show.
Celebrating its tenth year, the ceremony recognises the achievements of companies delivering digital and technological solutions to the events industry. The entries needed to inspire innovation and creativity as well as gaining outstanding results, so we chose to represent our Hasbro projects, where we delivered a two-part campaign across two of its much-loved classic gaming brands, Monopoly and Cluedo.
Personalised Monopoly in Selfridges, London
We increased the relevance and consideration for Monopoly and Cluedo in an ever-competitive retail landscape by pushing the boundaries in the ever-popular world of product personalisation. This allowed customers, old and new, to engage with these classic, family games, and create strong, emotional connections with the brands, achieving national reach and significant brand exposure in the run-up to Christmas.
The outcome saw our technical knowledge personalise the family classics and bring to life a full-process, the two-part campaign. 'Monopoly by You' pop-up in London's Selfridges department store and taking the 'Cluedo Family Edition' on tour, visiting Smyths Toys' most popular Superstores. We aided the development and build of the installations and overcame the challenge of taking them on tour, providing onsite technicians to manage logistics and run the operation.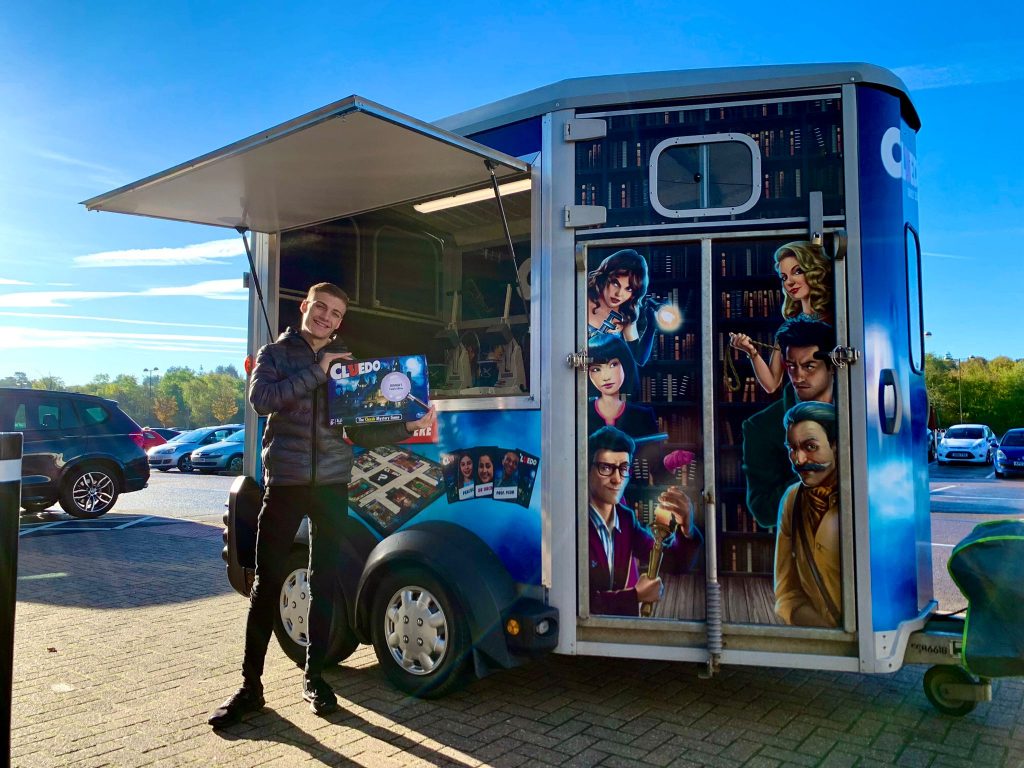 Cluedo Family Editions on UK Tour around Smyths Stores
We completely transformed an ordinary horse trailer into a custom-built Cluedo printing station to be towed around the country, reaching families across the UK via Smyths Toys. At the same time, a giant dice and life-size Monopoly board flooring that led Selfridges customers into the Monopoly By You experience. Our team supported customers at every step, helping them design their boards on the app and inviting them to watch as our bespoke printing technology brought their creations to life.
The life-sized Monopoly set in Selfridges, London
Families creating their personalised Cluedo board game
Both campaigns received top tier broadcast, national and lifestyle press coverage, featuring on This Morning's 'Ultimate Christmas Gifts' with Philip and Holly reaching an incredible one million views. The campaign also appeared in The Sun Online: '32 best Christmas gifts for him in 2021′; Evening Standard: 'Best Christmas board games of 2021'; Marie Claire's Hot List; Hello Online ran a dedicated piece titled 'Monopoly offering fans the chance to personalise the iconic game.'
The campaign was a powerful reminder of what a great partnership can achieve with iconic brands and the latest and best experiential technology.
"I'm incredibly proud of my team for our work with Hasbro, and the awards serve as a fantastic reminder of all the hard work and dedication from the team. It means a lot to be recognised for both the innovation and delivery of an ambitious project which pushed the boundaries in the ever-popular world of product personalisation."
– Matt Franks, Director at Noonah.