As online shopping soars, retailers must create more reasons for shoppers to enter its doors. It's eCommerce VS the High Street (unless they've joined forces), but with the growth of experiential retail, the fight just got interesting!
With the current recession and rise in living costs, customers are becoming pickier about where they spend their money. Not only that, but the pandemic drastically changed many consumer behaviours, from spending online on stay-at-home orders to switching to in-store purchases. We could easily call 2020 the Year of Amazon due to the widespread consumer reliance on the marketplace to meet their needs. But this has drawn attention to everything eCommerce can't offer; immersive, memorable brand experiences. For millennials, this holds particular importance. According to a study by the Harris Group, 72% of millennials would rather open their wallets for experience rather than products. All things considered, this has resulted in a huge pivotal change in physical retail. Instead of the in-store experience being purely transactional, it now provides additional value by giving consumers access to experiences and more options to fulfil their needs.
A major retailer leading the pack is FLANNELS, which is no surprise as they have been opening flagship stores up and down the country, providing a hub full of everything a consumer could want. The newest Liverpool store is the biggest luxury retail investment in the city to date, visitors can explore seven floors of retail space, which includes a beauty hall, multiple restaurants, bars, the world's first in-store Barry's Bootcamp, and a roof terrace. Earlier this year, the Meadowhall Sheffield flagship store featured the world's first beauty changing rooms (featuring Noonah smart mirror technology).
"With the opening of each of these experience-orientated flagships, we're doubling down on our commitment to 'new luxury', on our understanding of youth culture, and on the valued proposition, we give to brands: access to untapped audiences."
– Michael Murray, Flannels' Chief Executive. 
FLANNELS seem to be the 'first' in many experiences; it will be interesting to see what is in store in the future.
Next is none other than House of Vans. They transformed London's Old Vic Tunnels into a skater's paradise. With this brand activation, Vans opted for what could be regarded as the UK's most potent youth culture district, which boasts close vicinity to London's biggest legal graffiti wall and the nearby undercroft skate park on the banks of the Thames. Their hip, cool, and trendy brand culture is reflected in their underground creative hub, with a venue comprised of 5 brick-walled tunnels, each devoted to a different aspect of the Vans culture: art, cinema, music, skatepark, and more. They also have various tech around the center, one of which is a permanent photo booth to capture the memories created (which also happens to be a Noonah technology).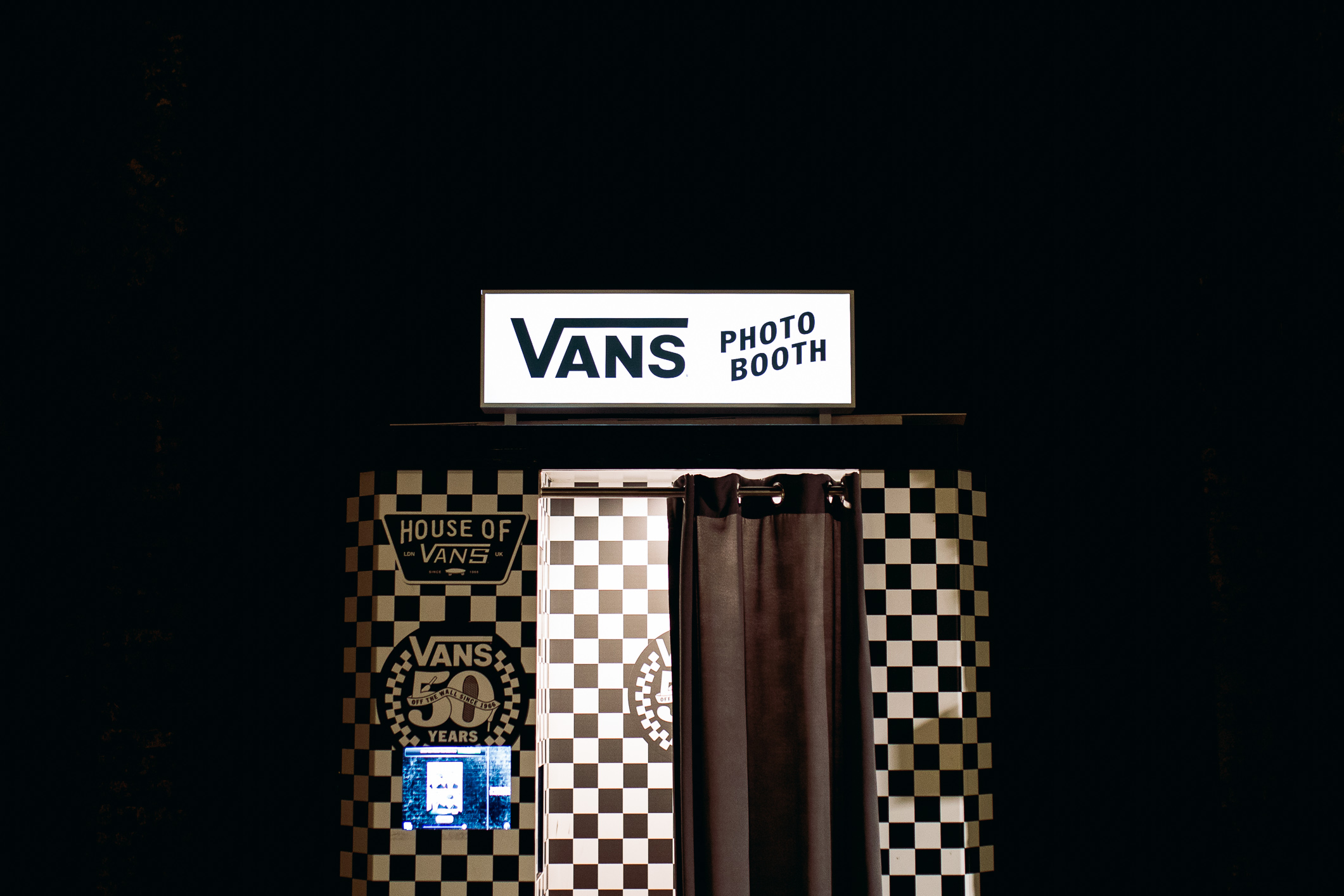 House of Vans photo booth as a permanent installation by Noonah
Upcoming sportswear brands are also joining the party. ABYL recently opened their first-ever London pop-up last month, including meet and greets with ABYL athletes, live DJ music, and community hangouts. And one of the most talked about brands in this industry, Gymshark, has announced opening its first-ever store. Gymshark takes a research-fuelled approach, such as hosting a men's barbershop with mental health trained staff, because men are more likely to talk about their problems to a barber than a doctor. They also had a trial shopping event, 'Shop & Lift,' to test experiences for the real deal coming later this year.
The future of bricks and mortar is no longer just a storehouse for inventory but a space for consumers to be immersed in a brand's identity and story. The way we shop is changing, and retailers need to get on board or get left behind.