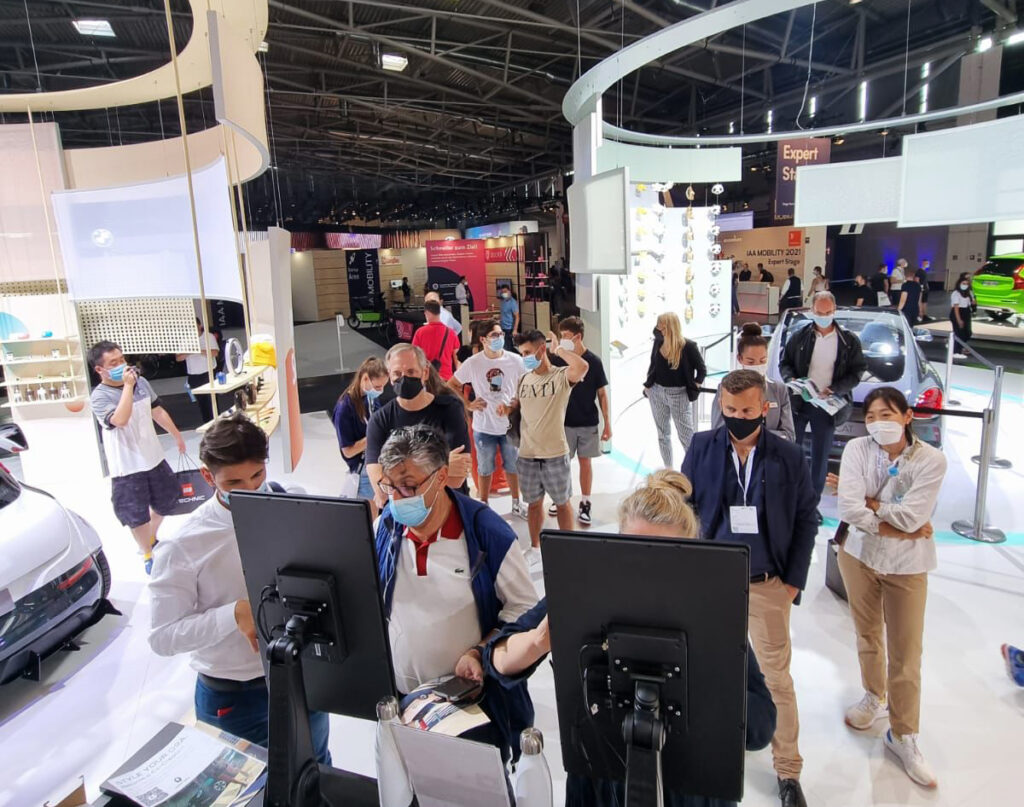 Whether your company is B2B or B2C, exhibiting can form a lucrative addition to your marketing mix. Exhibitions stands, trade shows, trade fairs, conventions, and expos offer a massive opportunity to entice customers new and old, and are a great chance to meet clients and suppliers IRL; it's also an excellent opportunity to scope out the rest of the industry and show off your brand.
"The Covid-19 pandemic hasn't dented the popularity of in-person trade shows, which remain a vital part of many business's marketing strategy." Display Wizard Covid 19 Trade Show Report 2022
The key to running a great stand is ensuring that you have a steady flow of relevant visitors but achieving this isn't easy and relying on organic footfall is a risky strategy.
Working for Noonah means that I get to go to hundreds of such events and see how exhibitors from the biggest brands to the smallest independents approach this challenge. In this post, I talk through what I have learned, what works and what doesn't and I look at a couple of Noonah technologies designed specifically to solve the problem.
First things first, choose the right show! List all your reasons for exhibiting and choose a show that ticks all the boxes. It should guarantee the right demographic, plenty of attendees, and good transport links and don't make a decision based on the cost of the show, but rather the ROI you expect to make.
Start marketing early
Get people excited and intrigued about visiting your stand before even setting foot in the exhibition hall. Obviously, the main thing to do is tell your audience; if they don't know, how do you expect them to show up. Send out communications that include all the information your audience needs in order to show up. Include dates, times, name of the exhibition, stand number, maps, registration, travel information, and more. Once you've told your audience the basic information, it's time to dress it up and sell the reasons to visit you.
I would start by creating a marketing plan that covers how you will communicate to your audience. Think about social media, advertising, emailing your database, and using notifications on your website. The exhibition itself is a great way to drive traffic to your stand, so remember to fill in your business information and profile on the trades show website so anyone attending can get an idea of who you are before heading to the show. You could also contact the show organisers to find out about any marketing opportunities they have.
Make your exhibition stand Instagrammable
The stand design has the most significant impact on how many stand visitors you will attract. Basically, it's the first impression of your business.
"An eye-catching stand is the most effective method for attracting attendees, according to 48% of exhibitors surveyed." Display Wizard Exhibitor Survey
In this case, the book will be judged by its cover! That's why you need a kick-ass stand design; whether you've got someone internal or outsourcing a designer, make sure the stand will look impressive visually and functionally. That means you need to think about how your visitors will move around your stand. Consider looking at the venue floor plan to see entry points and the traffic flow. The primary focus should draw visitors to an area of your booth that promotes your core message or product.
My ultimate design tips are to use minimal text, brand consistency, and focus on your entrance (you only get one shot at a first impression, so make it count!). Be bold and creative by incorporating all the senses; sight, sound, smell, touch, and taste. For instance, hiring a live DJ to play the best tunes or booking a barista to serve the delicious coffees; after all, people are more inclined to chat over a cuppa. If you know your audience well, you'll know what they like and what could drive them to your exhibition stand.
If your brand or business is social savvy, consider creating a dedicated space to encourage online interaction. A creative backdrop or frames will motivate attendees to take pictures and with added branding this will increase your exposure. If you're a B2C brand, let consumers pose with brand ambassador or influencer. Or maybe your business sells garments, so let your audience try them on and snap some pics for the gram.
Photos from our booths can be printed in person or sent directly to your attendees so they can post them on Instagram, LinkedIn, Facebook, WhatsApp, or wherever really. If you go down this route, make sure you include branding to the outputs to build brand awareness when shared online. Having a photo opportunity, no matter how big or small, can harness the power of social media and aid in driving more footfall.
Can you add video and animation to your booth? Using bespoke videos on TV screens, projections, and sliders, are great at grabbing attention. Why not combine the photos from a photo booth and display them on a large TV screen as a mosaic? This is a fantastic way to bring your community together at your next exhibition stand.
Freebies don't cut it anymore. Create winners instead.
Many exhibitors think a bowl of sweets placed on the table is enough to draw attention. This is not the case. Sure, some people see a tasty treat and wander by, but they've picked it up and gone before you've even had a chance to say hello. Instead of pointlessly giving out things for free, create an engaging experience that will not only draw people to your stand but will keep them there for longer. A competition would be ideal for this, even if it requires minimal effort to take part; attendees that have invested the time to win are more likely to stick around. Once you've had one winner on your booth, there will be a queue for the rest who want to win. Plus bigger the prize, the bigger the impact.
Noonah provides competition technology designed to increase footfall to your exhibition stand; Prize Vault. It allows the attendee to receive a code to unlock a door to receive a prize. The great thing about this technology is it can take whatever shape you want. When someone wins, the technology can trigger the door opening, lights, sound, music, and even confetti to draw maximum attention. I suggest sending a link to your audience to take part beforehand, that will encourage them to visit you in the hope of winning a prize.
Exclusivity and Personalisation
I believe that individual encounters are an important element of your exhibition stand. If you can make the visitor's experience personal, your entire presence at a trade show will be more effective and successful.
There are many ways to create an exclusive and personalised experience for attendees who visit your exhibition stand. You know your audience, so make them feel special and like they really matter to your business. Offer tailored marketing communications, 1-1 sessions, personal invites, and exclusive discounts. You can also include limited-edition products that they can't receive anywhere else as well as the opportunity to personalise their items with Noonah's live printing technology. With this technology, attendees can design their products live at the exhibition or collect their predesigned items when they arrive in person: guaranteeing traffic to your exhibition booth.
These tactics are a sure-fire way to get more people to your exhibition booth so you can woo them with charming sales tactics, tasters, and discounts, paired with impressive technology to secure their clientele and achieve the best ROI.