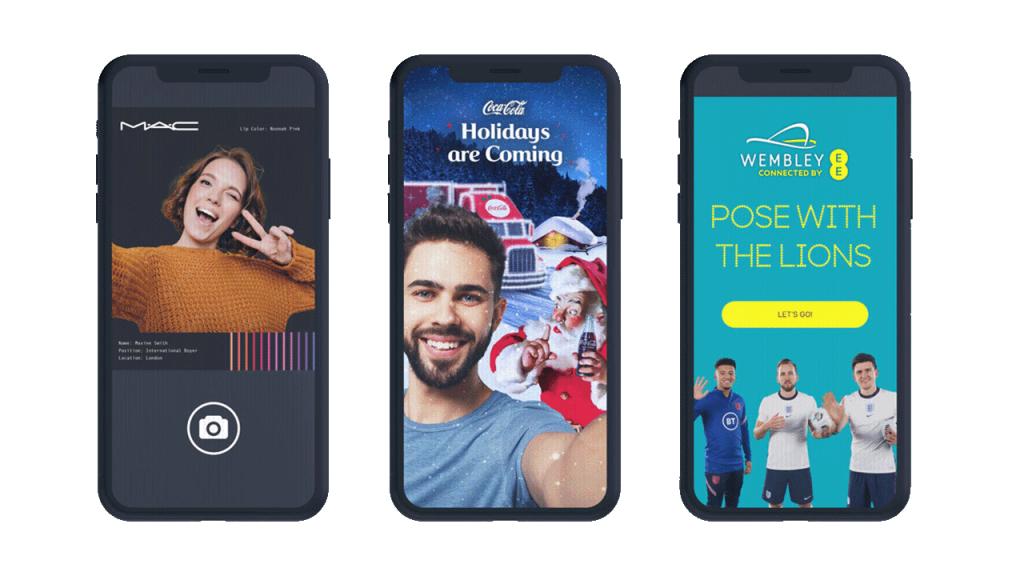 Add a fun and interactive element that engages attendees, encouraging them to capture and share unique moments on their social media platforms, generating organic online buzz and exposure for the event or brand. Our Online Photo Booth allows for an exponential reach beyond the physical event's boundaries, expanding the audience and potential customer base.
Optimised for social media, our Online Photo Booth allows your guests to create user-generated content which is branded in accordance with your event or campaign. Share on Facebook, Instagram, TikTok and any other social media platform creates significant reach and exposure for your brand or event.
Create shareable, branded user-generated content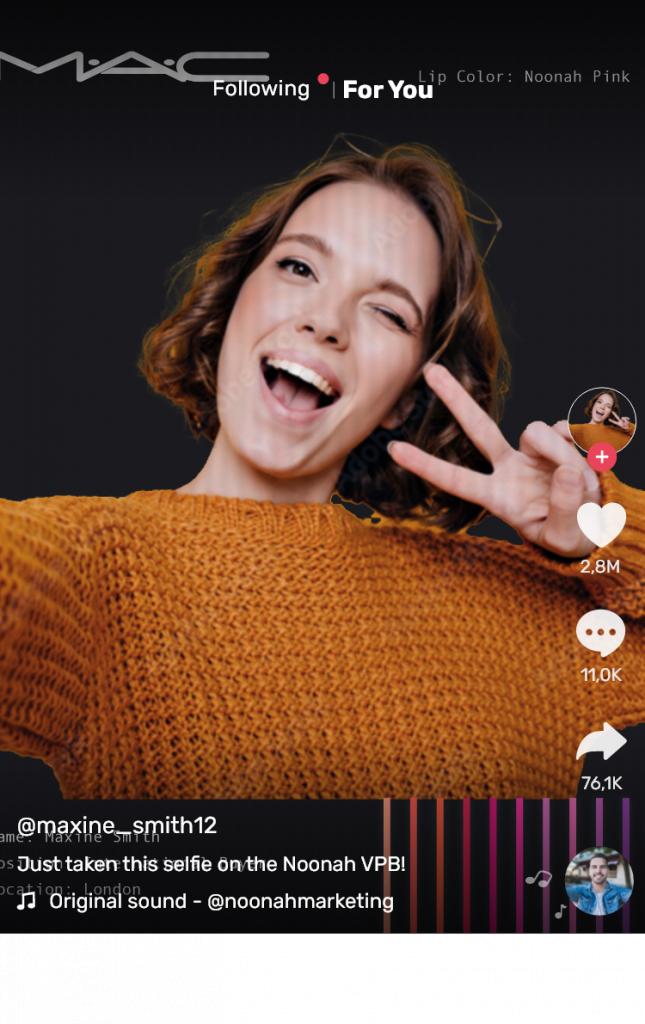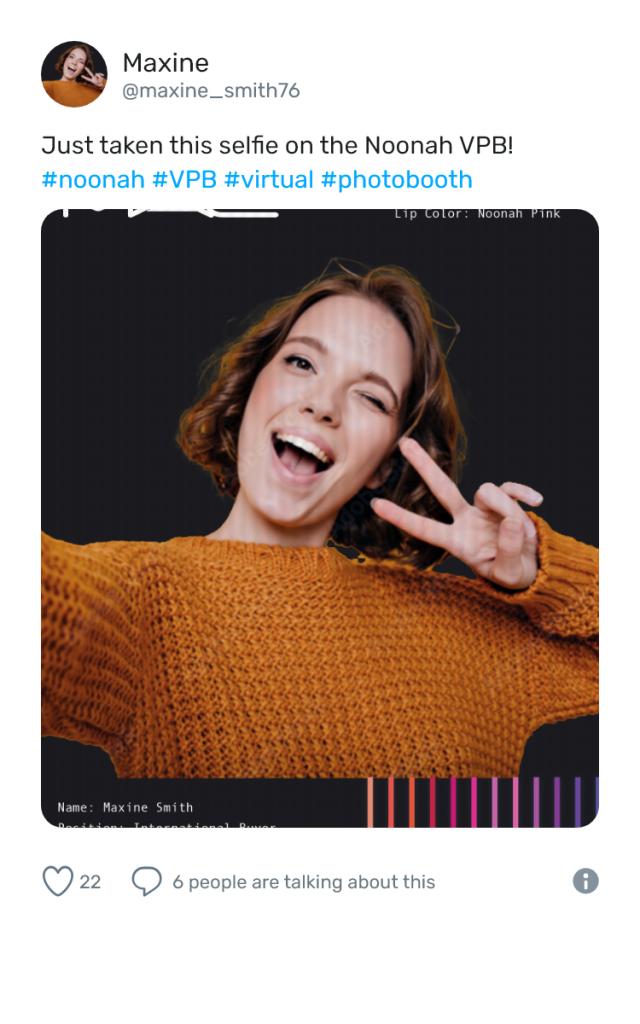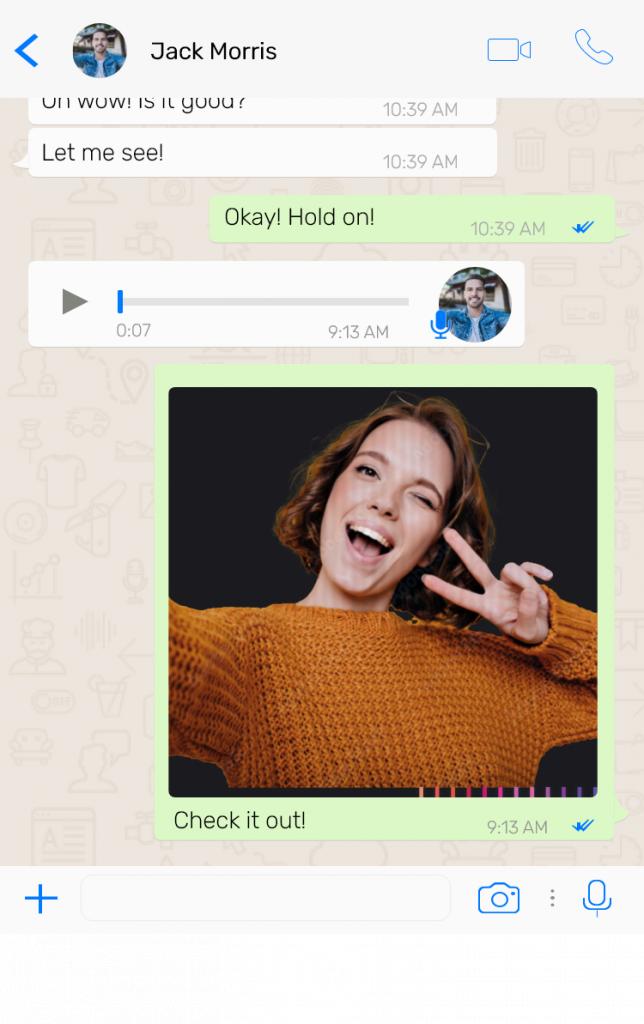 What a Online Photo Booth?
In basic terms, our Online Photo Booth is a cloud-based photo capture platform, but if you're running a virtual event, digital marketing campaign, or brand activation, it's a game-changer!
Our online photo booth technology gives your digital audience the platform to truly represent themselves and get involved at your virtual or hybrid event.
Everyone loves a selfie
Using any number of modes, filters and effects, VPB+ allows your guests to get creative, express their personality and get themselves noticed. Your entire audience create their own branded (or themed) selfies that they can use as their identifier and across countless other applications, its fun, intuitive and completely secure.
What's with the "+"?
Noonah's Online Photo Booth is the next generation in online photo capture technology. It's completely customisable and seamlessly integrates with all virtual event and web conferencing platforms.
Its potential is limitless. If you have an idea for how you want to use it, talk to our team who can help you make it happen. Otherwise, choose one of our existing modes and expansion packs to take your virtual event, campaign, or party to the next level.
Create Selfies & GIFS with the latest Effects & Filters
Noonah's Online Photo Booth has endless options for your guests to add filters, animated overlays, messages, stickers and even audio. Creating gifs and boomerangs is a breeze, and our market-leading background removal technology means that your guests can change their background or location. You can configure VPB+ to use any combination of options from our extensive library, or we can develop custom effects in line with your campaign or event.
Online Photo Booth Modes
Together Mode
By combining selfies captured via VPB+, "Together Mode" enables you to create group photos with colleagues wherever they may be.
Hero Mode
Hero Mode gives your guests the chance to have a digital photo with celebrities, sporting stars, historical figures, or key individuals from your organisation.
Destination Mode
Using our smart background removal technology, "Destination Mode" can send your guests anywhere they want to go!
Combine Online Photo Booth with our Online Mosaic!
Bringing your virtual and hybrid audiences together in our Online Mosaic, is a powerful way of instilling a sense of community that is scalable, searchable and secure. Working seamlessly with VPB+, our cloud-based online mosaic platform is the best out there.
Interested in a Online Photo Booth for your next event? Get in touch today!