In March 2023 the 3rd season of Disney's Mandalorian hit our screens. To support the show's London premiere, a 4000 sq ft unit below Picadilly Circus's famous billboards was transformed into a full-size replica of the Armorers Forge.
A chance for fans and celebrities to fully immerse themselves in all things Mandalore, the two-day pop-up was designed to build anticipation and engage fans, new and old, with live music, drinks, special guests and a range of activities that would not be out of place on Navarro or Naboo.
Our Glamdroid tech combines rapid robotic movement with high-speed video to create short-form videos optimised for platforms like TikTok and Instagram.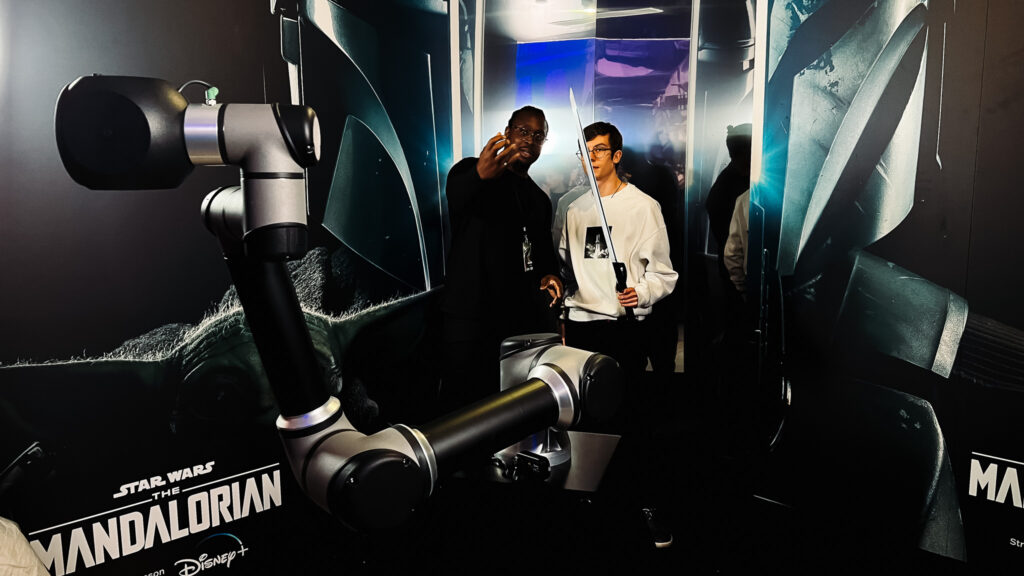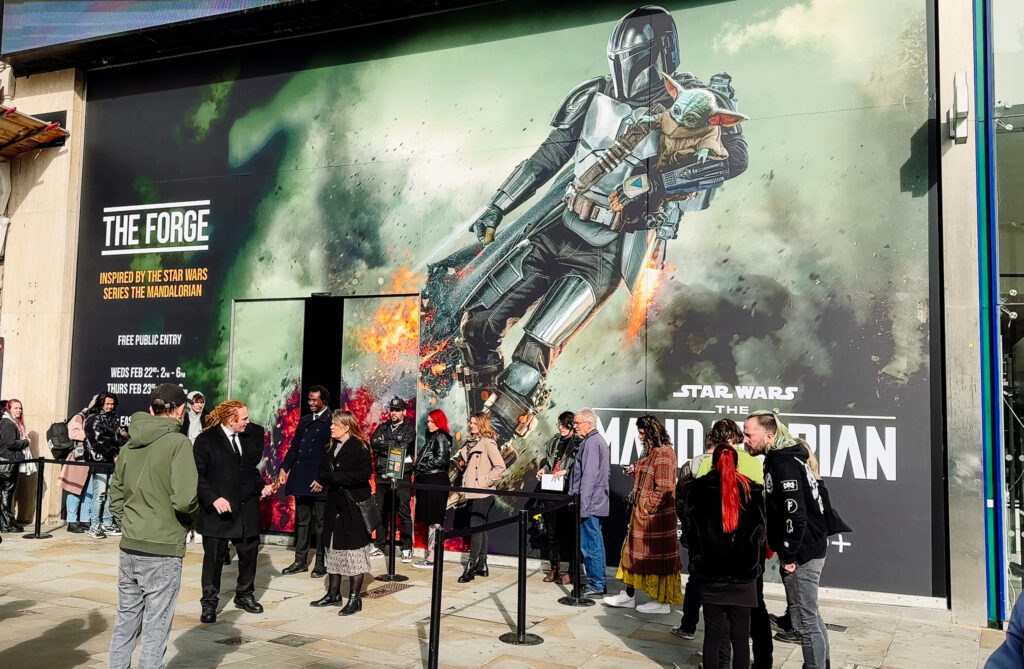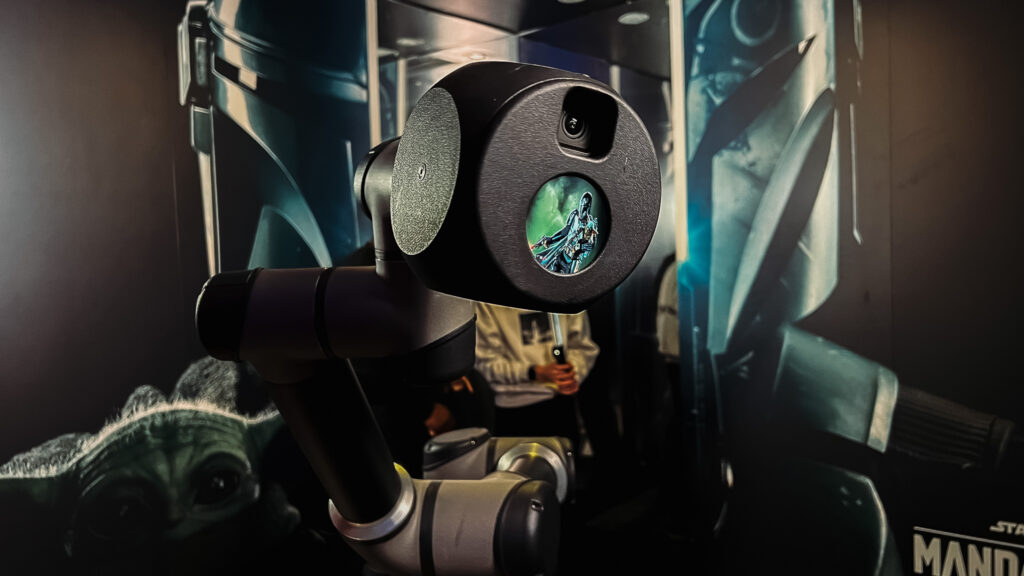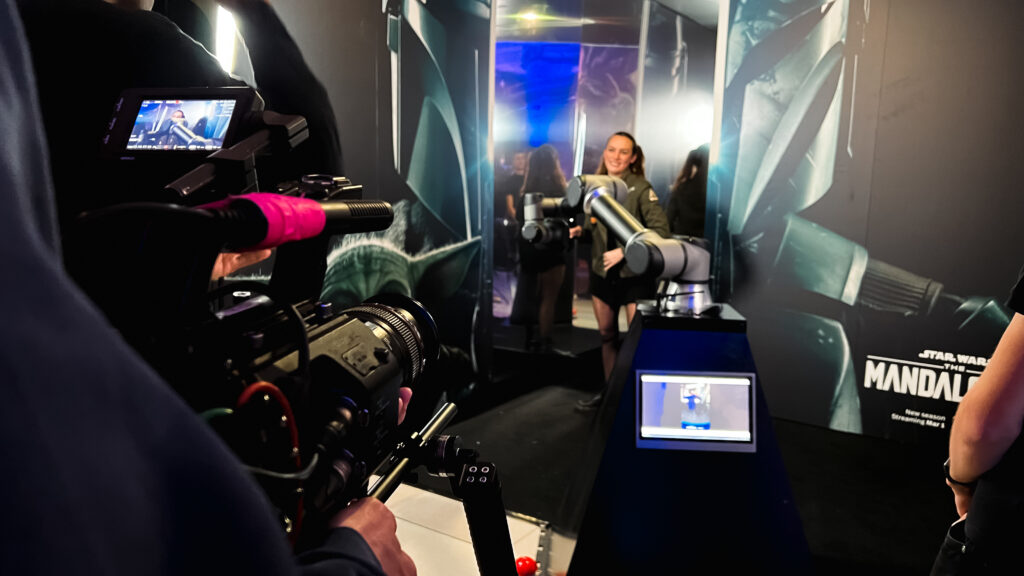 Glamdroid gave guests at The Forge a unique 'droid-inspired' TikTok opportunity.
As part of the activation, event organisers Premier asked Noonah how we could help them generate UGC and build hype for the event while giving guests at 'The Forge' a unique experience befitting of the New Republic… Enter our very own droid (Glamdroid®, that is); our robotic camera arm was (of course) the perfect solution, so we quickly set to work developing a concept worthy of a Jedi.
Glamdroid® combines rapid robotic movement with a high-speed camera to create short-form videos optimised for platforms such as TikTok and Instagram. Once the camera begins recording, the capture lasts for around 10 seconds, so to get the best possible outputs, our event staff direct the user/s, elevating the experience and ensuring that there are no awkward moments. Props really help with this element, and so a Darksabre, the legendary black-bladed weapon wielded by Bo-Katan, was on hand for users to show off their sword skills while Glamdroid® did its thing.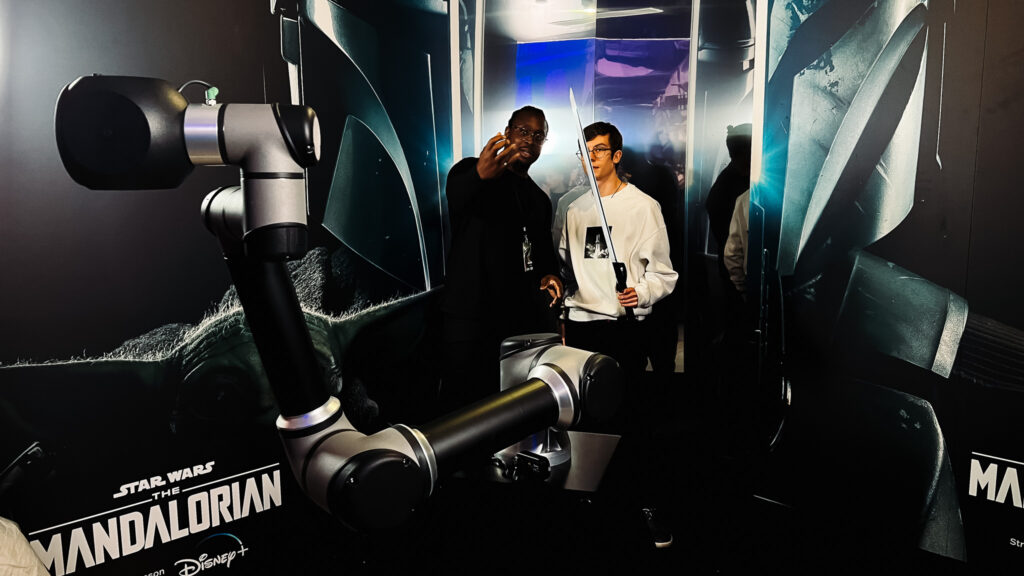 The techs here at Noonah programmed the movement for Glamdroid® specifically for the event designing a sequence which captured the lightsabre-wielding users in their best possible light, Glamdroid® then added a Mandalorian-themed intro and SFX before sending the TikTok-optimised output directly to the user's inbox.
As always, Glamdroid® caused a real buzz attracting hundreds of fans (and a few celebrities) to show off their lightsabre skills, generating thousands of impressions on social and creating a unique and lasting memory for those that took part. If you think Glamdroid® could work at your next event or activation, be sure to contact our robotics and Glamdroid® expert.
Inspired by our Mandalorian project? Elevate your upcoming project with our Glamdroid®