After weeks of preparation, it was finally time to reveal Noonah's exhibition stand for Event Tech Live. This is one event we continually participate in; yet, this year, it relocated to EXCEL London.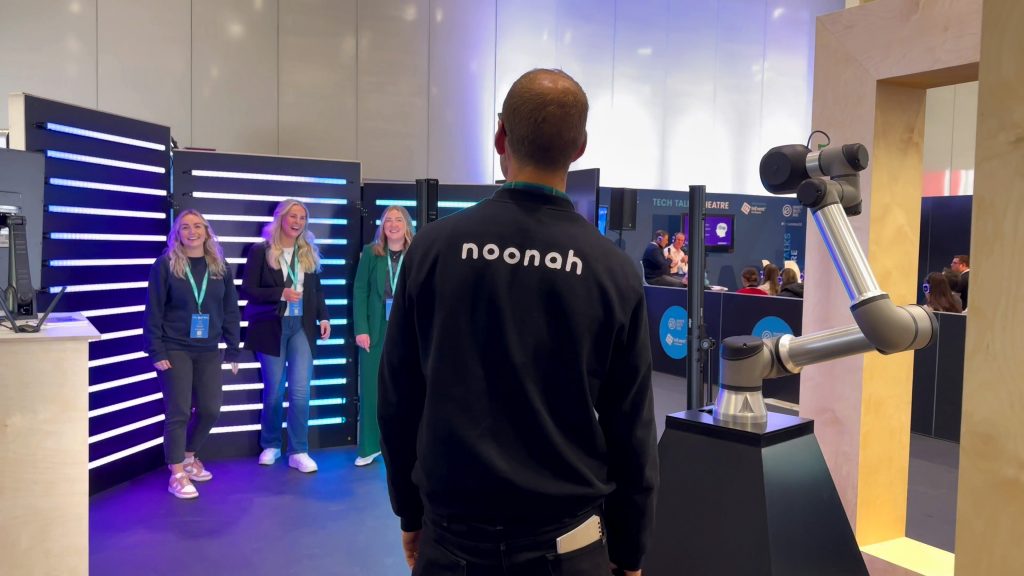 The UK's first premiere of Glamdroid® at Event Tech Live
People attend Event Tech Live to learn about new event technologies and industry trends, and you can't get much newer than Glamdroid®. This is the only robotic camera arm designed for the events industry, and everyone who visited our stand got to try it out. They showed off their best moves, poses, and dances while capturing shareable branded videos in front of a flashing LED backdrop. Like most people at a tradeshow, they don't expect to be getting up and having a dance, but they are absolutely blown away when they see the results.
After day one, Glamdroid® recorded the winner's videos for the Event Technology Awards, which took place in the same hall. People were running up to our stand to their winning shot of their team and their awards. The excitement of winning an award and the excitement of a robotic arm created the most amazing videos and a great way to remember and share their winning moments.
I couldn't get enough of making fun videos with the team, so I can see why this piece of tech was so popular. When Glamdroid® wasn't in action, it was set up in 'attract mode.' This mode made it feel like the lens was looking at people as they were walking by our stand. The motion caught people's attention, and they couldn't resist coming over and finding out more!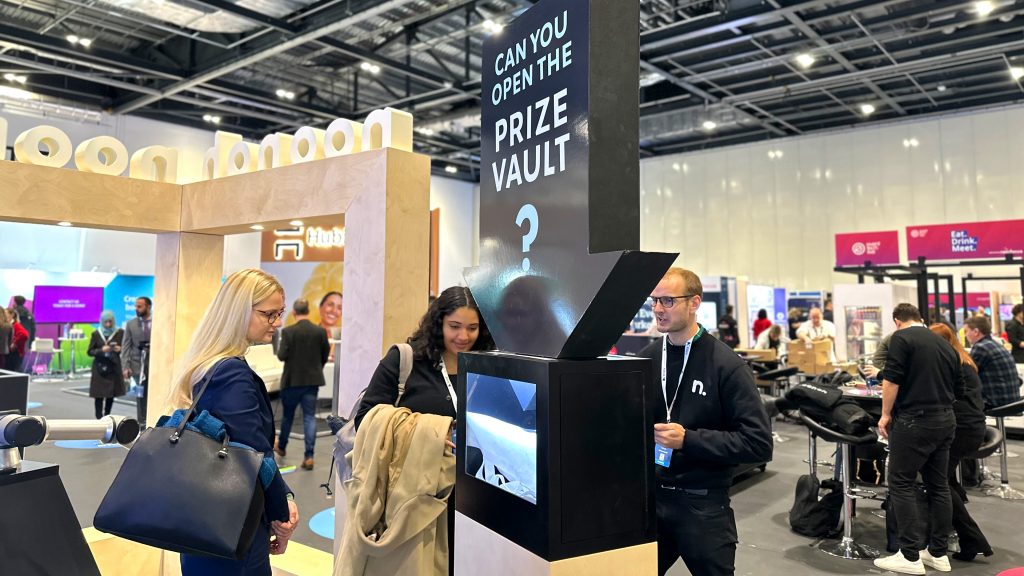 Prize Vault is the ultimate tool to drive footfall and create a fun experience
Prize Vault was also back and giving out even more prizes. Only this time, it appeared in a completely different shape. Previously, we showcased this tech in the form of American-style lockers. But this year, it took the form of a black box with Perspex cut-outs. We could have displayed the incredible prizes inside; instead, we chose to keep them a surprise by placing them in a personalised Noonah tote bag. People loved it, proving that this event tech does what it says on the tin. It creates footfall; in this case, it was to our tradeshow stand.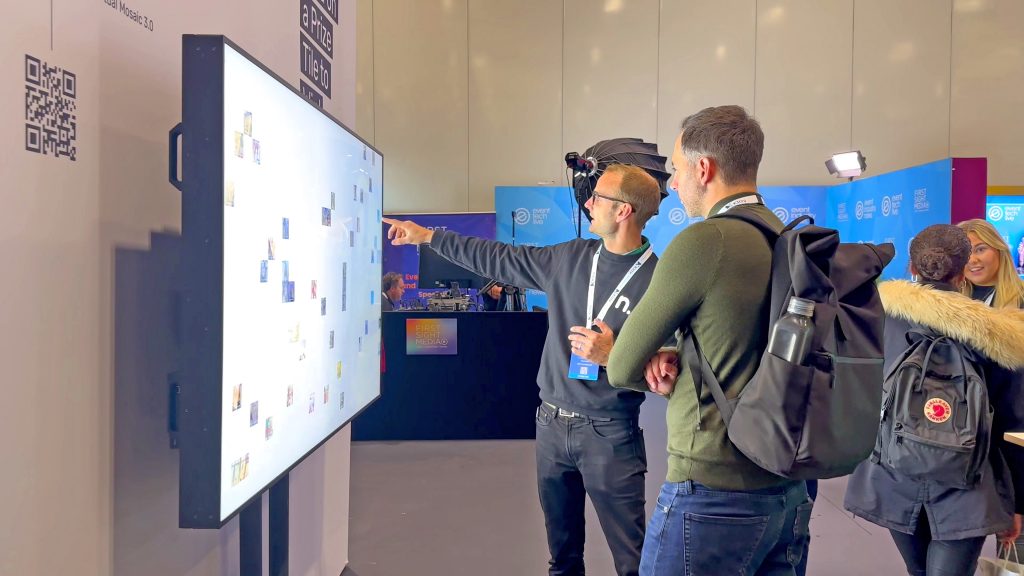 Virtual Mosaic 3.0 makes visitors feel part of our exhibition stand
Lastly, and arguably one of my favourite event technologies on our stand, was the Virtual Mosaic 3.0. We wanted visitors to become part of our stand by having their selfies in our Mosaic. There was people taking selfies alone, with their colleagues and friends, and even taking photos with someone they just met. For those who couldn't attend in person, we also shared links on social media so they could still join in. These selfies then automatically filled our Mosaic to create the final picture. The image, was in fact, a photograph from our recent project with Morgan Stanley in Times Square, which was another great talking point at the show. Once their images had been submitted, they watched the screen and looked for themselves in the Mosaic. Not only was there a great community feel, but we also introduced our newly developed 'Prize Mode;' so, visitors had even more ways to win on our stand!
We love the buzzing atmosphere Event Tech Live creates, which was only elevated by this year's chosen venue. It was great to speak to familiar faces and show new ones what we do. We also spoke with some fantastic visitors who can't wait to use our tech at their next events. The exhibition was about bringing the latest tech and trends and introducing them to the events industry, and that's precisely what we did!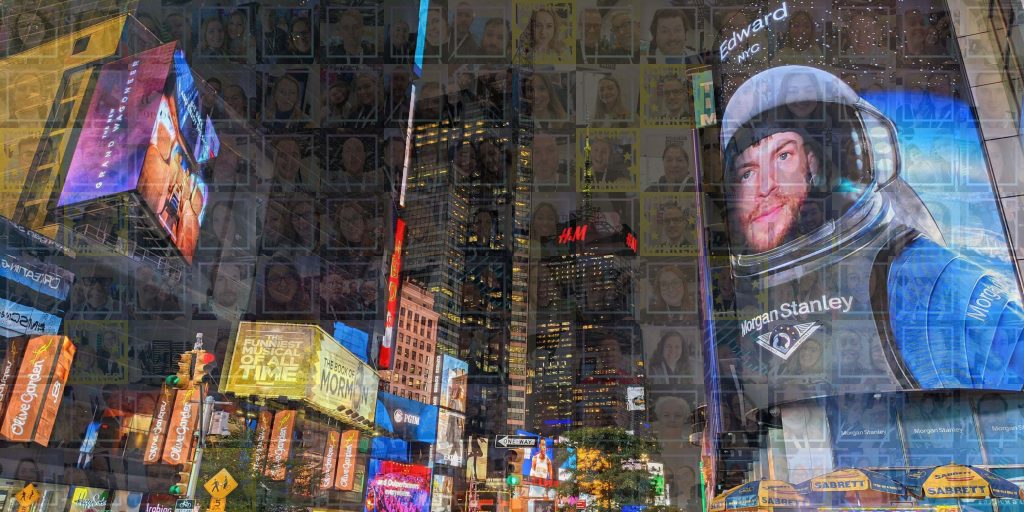 Completed Mosaic Image from Event Tech Live 2022. Can you see yourself?